2024 SWING FOR A SOLDIER GOLF TOURNAMENT
MONDAY JULY 8TH
GOLD MOUNTAIN GOLF CLUB
More Information Coming Soon!
If you are interested in sponsoring or would like to be placed on the waiting list please email [email protected]
09:00am- Check in located in the Olympic Room. View/bid on auction items & pick up complimentary Swag-Bag

10:00am-12:00pm- Lunch from Blue Smoke BBQ provided by Valona Painting

11:30am- Opening ceremonies…YOU DON'T WANT TO MISS THIS!

5:00pm-6:00pm- Dinner is served, award ceremony, and live auction…YOU DON'T WANT TO MISS THIS EITHER!
While honoring our veterans, warriors and first responders, it is by far one of the best rounds of golf you will ever play in a charity tournament. You won't forget your experience regardless of your score. Enjoy a beautiful PNW golf course while you support the Permission to Start Dreaming Foundation and the strength-based programs and workshops we are providing for veterans and first responders dealing with post traumatic stress. For those who have been personally impacted by the innovative training, workshops and monthly huddles, it is truly making a difference. Featuring a great day of golf, reception and awards dinner, expect to be impressed with the prizes and many other activities that are planned for you; "our compassionate allies."
Join us on Monday July 8th at the Swing for A Soldier Golf tournament in Bremerton. You will be helping us address the very urgent needs for better mental health and wellness resources for our veterans and first responders. They do dangerous and most courageous work on our behalf to keep our families safe. They deserve our strong support, continued encouragement and gratitude. This is an outstanding way to demonstrate your appreciation for those who serve us in our communities and defend our country. Spend the day playing golf, have a lot of fun and support a great cause.
thank you to our 2023 sponsors!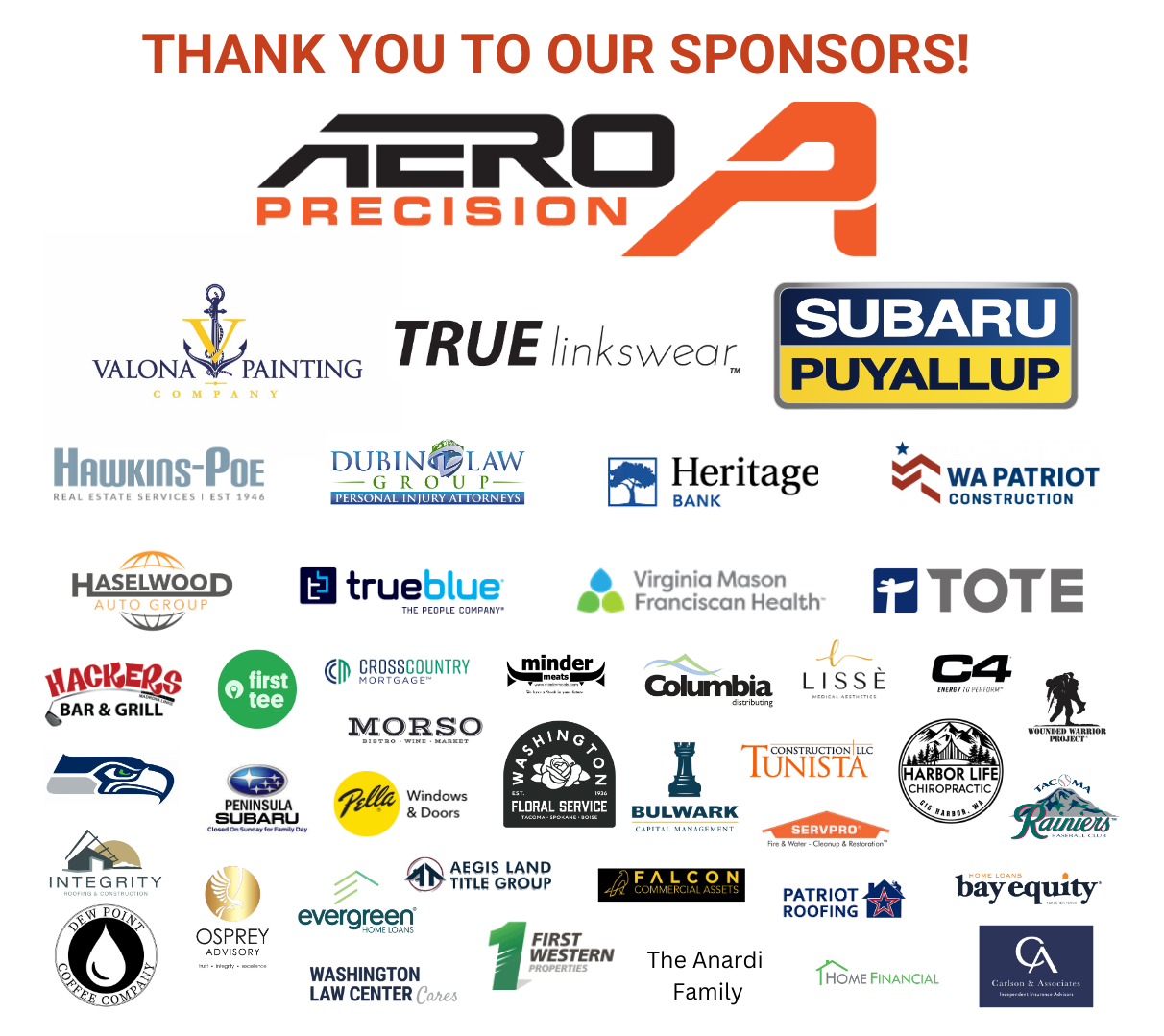 We are committed to bringing hope and healing to our first responders, military members, veterans and their families dealing with post-traumatic stress and combat trauma.
If you are in a crisis and need to talk right away, or you are concerned about somebody else, there is always someone to listen and help.