The following was originally posted in the Daily Press. You can read the original article here.
By LESLIE MAYNE
FOR THE VIRGINIAN-PILOT
In 2009, my son Kyle was receiving treatment in a VA hospital for PTSD and traumatic brain injury after two deployments to Iraq. After nearly four months, the doctors wrote him many prescriptions and discharged him.
"They said I'm taking up a bed and I could self-medicate," he told me on the phone before he left. I lived 3,000 miles away from the hospital, and I told him we would figure it out together.
But we never got the time. That night, he took his life in a hotel room in Baltimore, overdosing on psychotropic drugs and alcohol. He was 27 years old.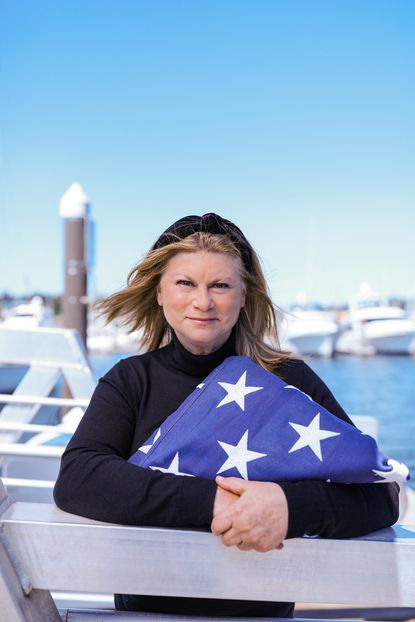 In this country, we rightly pay a deep level of respect to Gold Star Mothers, whose children died in the line of duty. But we can't forget about White Star families, who have lost an active duty or veteran family member to suicide. There are more than a hundred thousand mothers like me. Since 2001, more than 114,000 veterans have died by suicide. In honoring them, we acknowledge the soul-deep toll war takes on our service members, and we honor those who have lost their lives because of it.
There is a deep shame that comes with being the mother of a veteran who took his own life — shame that you couldn't help your child. I know now that Kyle was a casualty of war just as equally as those who lost their lives on the battlefield. But it's hard to explain to people that my son didn't die in a gunfight or a helicopter crash. Kyle courageously endured nightmares, anxiety and depression as a result of his service. But eventually, he couldn't see a way out.
To transform my grief into something positive, I started the Permission To Start Dreaming Foundation. When Kyle was suffering from nightmares, I wanted him to be able to dream in peace about the future. I wanted to give a different meaning to the acronym PTSD.
We need to do more than throw medications at the problem. I've spent years studying alternative therapies, from service dogs to equine therapy. Finally, I found the Warrior PATHH program — a transformative, lifelong, post-traumatic growth-based training program for combat veterans and first responders. It works because it doesn't ask soldiers to just endure their trauma or even make peace with it. It uses proven science to help them transform their struggles into their profound strength.
I first found Warrior PATHH at Boulder Crest in Bluemont, Virginia. I thought, If I could have walked Kyle out of the VA and into a place like this, he would still be alive. Since that day, the PTSD Foundation has sent 30 men and women to Boulder Crest and other Posttraumatic Growth programs, and we have just become the first foundation to offer the program in the Pacific Northwest.
Here is my message to other White Star mothers:
Find a way to honor your child. Don't stop telling their story. Sign up for races or memorial events. Kyle only lived for 27 years, but he lived, and he mattered. He loved his country, and he gave his life for it. That's something to be proud of.
Focus on your own healing. This is so important for your family and your surviving children. I have three other children, and it wasn't until I stopped trying to dull the pain with wine and sleeping pills and started to heal myself that they were able to heal also.
Know you are not alone. Connect with other White Star parents. One of the now-program directors of our Warrior PATHH program was deployed to Afghanistan with the Air Force Reserve when she got the call that her son, also a service member, had taken his life. Today, she helps veterans, first responders and their family members transform their trauma into growth.
And to anyone struggling with PTSD, you need to know: There is another way. I've seen it.
Leslie Mayne is the founder of the Permission to Start Dreaming Foundation, Race for the Soldier, Swing for a Soldier and Pull for a Soldier. She lives in Gig Harbor, Washington.